Allow for in-browser guest file previews
Hi!
I often send sharing links to clients without access to Microsoft Office or document viewing clients. I would love to have the option to allow guest users to preview Word/Excel documents within the browser using one of the available document viewers (Google Docs Viewer, OpenOffice, etc).
As a bonus, it would also be a nice feature to allow guests to edit a document with Google Docs Editor, Zoho, OnlyOffice, etc. and be able to control guest editing permissions.
Thanks!
-Matt
Shared Folder Layout
The landing site of an shared link (public) is missing the logo which is defined in the settings and lso the list view is not available. I would be nice if the ui design were consistent. Or did i miss a configuration? But: Very nice piece of software!
You have an option for choosing the type of display the link should have: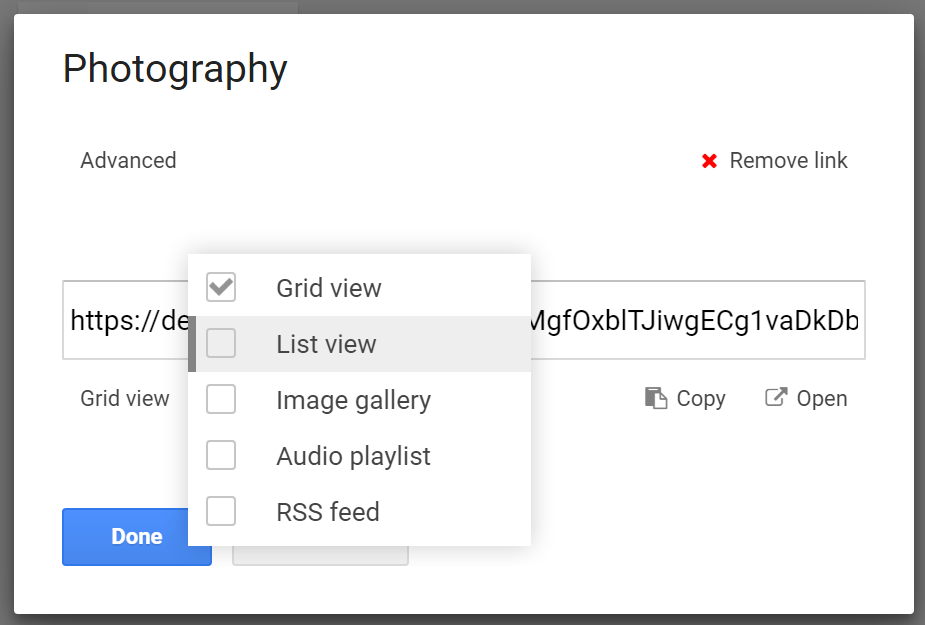 We'll consider adding the logo on the link pages as well. Thank you for the feature request!
Share document by email.
Add Feature Request Read Confirmation when sharing document.
There's a checkbox in your screenshot. Use it, then use the web link options panel to enable e-mail notifications for the links you send. There is no way to get a read confirmation back otherwise.