Feature requests

Hello,
could it be possible to add a personalized navigation structure?
That is to say allow users to reorder their navigation panel.
In this example, as an user, I would like to reorder my left panel with this order:
- 3D MODELS
- PDF DOCS
- OFFICE
- PHOTOS
- MUSIC
And of course without adding a '1- ', or '2- ' as prefix of my folder.

This feature will allow users to configure his/her more useful folders.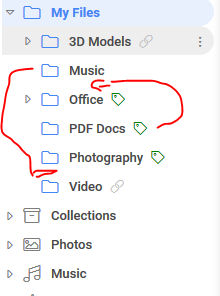 In this example, the folders are asset-types, but they could be themes  like 'contracts', 'myFunction', 'myArchives'...

Having myArchives before myFunction is not perfect in term of UX :)