Bugs / Problems

Interesting issue:
1. thumbnail creation of new files (JPG) used to work just fine, but now, for any JPG that has no thumbnail or needs its thumbnail to be updated:
Rudhra/Photos/Albums/2013/2013-10-02 Indonesie/Sumatra, 2013/2013-10-08_11-09-36.JPG  ... Failed!

Eventually, I found out my GraphicsMagick/ImageMagick path/executable is no longer correct in FileRun settings: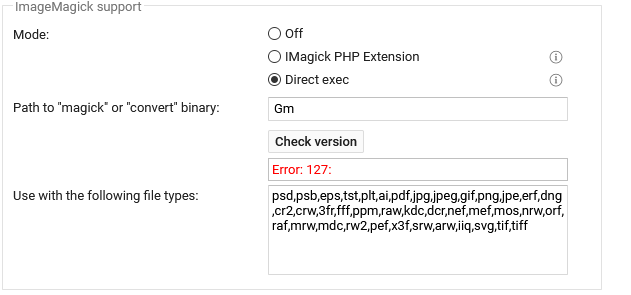 I use Docker and I did not have to install GraphicsMagick or ImageMagick, it was included with the FileRun Docker image.
I believe the issue is a bit more broad:
2 weeks ago due to thunder I had to repair my server, reinstall my OS and Docker. Luckily I keep backups, also of my Docker persistent volumes.

But since the Filerun image is still from 2019, and my persistent volumes belonged to the 2021 March version, I suppose this is the reason why I now have this issue.

Note that updating is not possible: it says I am already on the latest version, probably because the version number is kept in a file on the persistent volume.

How to solve this?